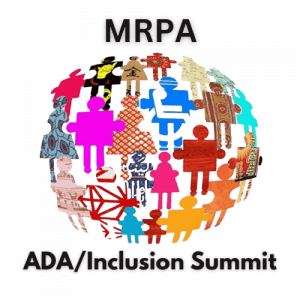 MRPA ADA/Inclusion Summit
Removing Limitations, Empowering Potential
Date: Wednesday, February 28, 2024
Location: Harriet Tubman Cultural Center
8045 Harriet Tubman Ln, Columbia, MD 21044
Time: 8:30am-4:30pm
CEUs Pending!
BACKGROUND AND INTRODUCTION
In July of 1990, President George H.W. Bush signed into law the Americans with Disabilities Act (ADA), one of the most important civil rights laws to be enacted since the Civil Rights Act of 1964. The ADA prohibits discrimination against people with disabilities in several areas including employment, transportation, public accommodations, communications, and access to state and local government programs and services.
In keeping with the spirit and intention of the ADA, the Recreation and Parks industry strives to be a leader in accessibility and inclusion. Offering diverse leisure opportunities, building accessible parks, open spaces, playgrounds, and amenities the industry plays a critical dimension in the quality of life for ALL people enhancing overall health and wellness, physical, social, behavioral, environmental, and mental health of our communities.
ACCESS TO RECREATION AND LEISURE
So, how do Recreation and Parks agencies and their employees strive to embrace and promote access and inclusion, particularly for people in the disability community? Programmatically, the ideal situation would be a dedicated Therapeutic Recreation/Inclusion/Program Access Office available in every Department with professionals in the appropriate field hired to ensure that the ADA mandate is enforced while creating and implementing specialized, adaptive, and inclusive programs; coordinating reasonable program modifications/accommodations; offering training opportunities; and acting as a resource for employees and the public. The other critical components in ensuring access and inclusion are qualified planners, architects, and other specialists who design, build, and renovate facilities, amenities, and spaces. They are required to follow current ADA Standards for Accessible Design and the standards set forth in the Architectural Barriers Act (ABA). These protocols guarantee physical access which leads to program access- the ability to engage in leisure pursuits in an inclusive setting. Program and physical access work hand in hand to ensure inclusion and access for all.
However, many agencies across our state, region, and nation do not have dedicated offices in place that focus solely on ADA compliance, inclusion, and access. Many agencies do provide a good faith effort to assist the disability population with the resources they may have available to them. However, this may not be enough. Without a dedicated ADA and/or access office to offer professional assistance, how do park and recreation agencies uphold the ADA, a federal mandate, ensure access and inclusive settings, and embrace these practices in their work programs?
SUMMIT OUTCOMES
This Summit serves as an educational experience for professionals in all levels of Parks and Recreation management positions to gain a deeper understanding of the intention of the ADA, and discover proactive techniques and methods that will enhance inclusive experiences for all.
Some of the goals and outcomes for the Summit (but not limited to):
Gain knowledge of the Americans with Disabilities Act (ADA) and its impact in the Parks and Recreation field.
Acquire adaptive methods and techniques that can easily be used in programs to include people with disabilities.
Discover ways to enhance communication efforts for all to feel included.
Share methods to enhance collaborations and partnerships.
This ADA and Inclusion Summit will concentrate on education and information relevant to Title II. Under Title II, all state/local governments must follow the ADA regardless of their size. If you are part of a state/local government, there are many aspects of the ADA with which you should be familiar. This Summit is intended to assist you with relevant information.
Price:
Before February 1, 2024- $75 (Early bird price)
After February 1, 2024- $95 (Regular price)
Register 5 people at once and get registration for $65 (early bird)/$85 (regular price) per person
Cost Includes continental breakfast, lunch, sessions, and networking with vendors and other professionals.
Resources/Library
View and download the agenda, speaker bios, vendor info, resources, and more.
*Please note that you will need to log in to your MRPA online account to access this folder.  Please send an email to info@mdrpa.org if you need assistance logging in.  You can also create an account, by clicking here.  
Interested in being a vendor?
Being a vendor allows you to directly speak with recreation and parks professionals from all over the state of Maryland.
The vendor fee is $250.  Vendors will receive the following:
1 table and 2 chairs
Logo/Business Description/Business Webpage will be added to the event page
Lunch
Interested in being a sponsor?
Being a sponsor gives you the opportunity to support the Maryland Recreation and Parks Association, as well as the disability community.  For more information on sponsorship opportunities, please contact Nancy Pfeffer (Nancy.Pfeffer@pgparks.com) or Jennene Blakely (jennene.blakely@montgomeryparks.org).
Check out our summit partners!